Fully integrated, fully supported vertical video
Darian, our VP of Platform Growth, tells us more about WIREWAX on mobile. Scroll down ⬇️ to learn more about creating vertical videos in the WIREWAX Studio
At WIREWAX we understand the importance of meeting the viewer where they are - which is more than likely on their phone! Our interactive technology is compatible with any device and any size. WIREWAX's player and video technology works across all platforms and devices - mobile, tablet and desktop. We have a unique HTML5 responsive player which enables all mobile video to play in-browser - even on the iPhone. Engaging viewers in a mobile-first environment means making adjustments to ensure they get the most out of their interactive experience in the exact same way they would on Desktop.
Taking into account the size and orientation of most mobile devices, the most natural way to view video is in a vertical format. Luckily, you can easily create a mobile-first interactive vertical video or even repurpose a standard 16:9 to adapt for vertical!
Creating a vertical interactive video
To start creating an interactive vertical video, upload your video to the Studio in 9:16 format, without padding. WIREWAX will automatically ingest your video and will not add any padding by default.
Once your video is uploaded, you can create interactivity much the same as you would for a 16:9 video!
Creating vertical overlays
When it comes to crafting overlays for vertical, you'll want to make considerations that will make it easy for a mobile audience to interact on a small screen. Consider decreasing the amount of text on the overlay (as compared to a 16:9 overlay) and having large call-to-action buttons that can be easily seen.
Under the templates library, you'll find templates specifically for vertical video.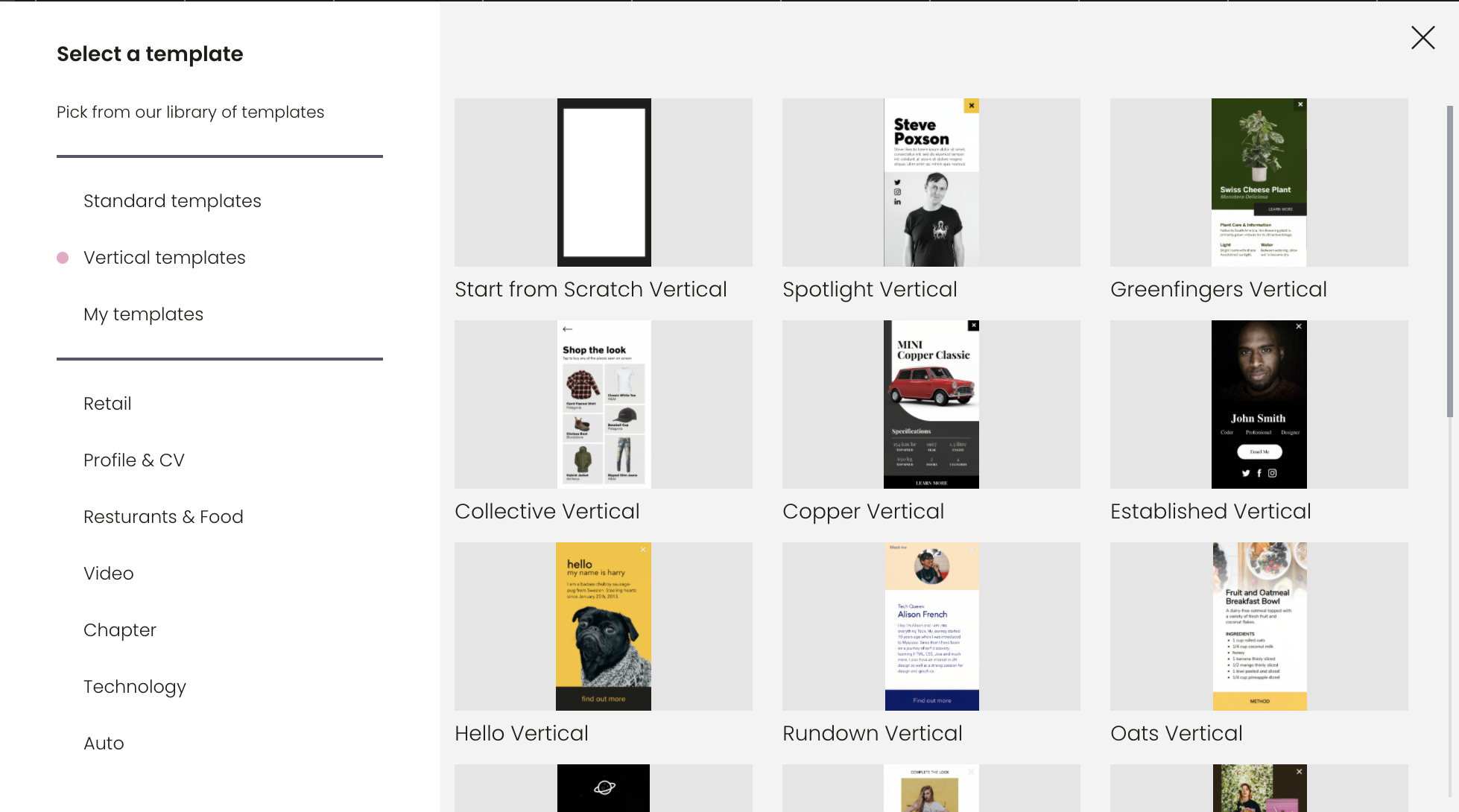 Note: If you select a template that does not match the aspect ratio of your video file (for example, selecting a vertical template on a 16:9 video) you will have to manually adjust the overlay to fit your video.
See some of the possibilities of vertical, interactive video:
And an example of vertical video from our Showcase Library:
Distributing vertical video
Creating an interactive vertical video means you'll need to think about how to best surface your video to your mobile audience.
Whether embedding it on your mobile site, or distributing via social media platforms, take care to ensure your mobile audience is directed to the best viewing experience for them!
Can my video go fullscreen on mobile?
Some devices, like iOS devices (which use Quicktime), will prevent WIREWAX video from going full screen, which is why we recommend always embedding your interactive content to the width of the screen to make the most of the available real estate on smaller screens.
You don't have to do anything special to optimize your video for mobile - the video will resize to any device on which it's viewed.
Our player is fully responsive so it will expand to the full width of whatever container it's placed in, including on a mobile device. Wherever you will ultimately be embedding the video (for example, your website) the video will sit on the page somewhere in a container. To keep in mind optimum viewing, you'll want to have the video in a container that can go the full width of the screen (or as wide as possible) when viewed on mobile.
Questions on creating mobile-first interactive video? Give us a ring at support@wirewax.com.