Add your own subtitles & closed captions, or let us do the hard work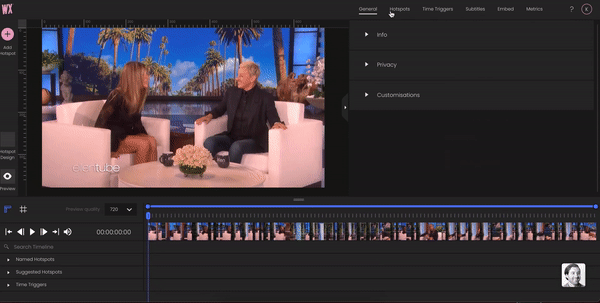 Subtitles and closed captions open up your content to a larger audience, including deaf or hard-of-hearing viewers or those who speak languages besides the one spoken in your video. The Subtitles tab has an upload and Configure menu. WIREWAX also offers an automatic Subtitle generation service in English.
To start the automatic generation of subtitles:
1) Enter the Studio and go to the Subtitles tab at the top-right.
2) Click the Generate Subtitles option.
3) After a few minutes, the Subtitles will be generated and ready for use.
4) Going back to the drop-down, you can download the automatically generated Subtitles or delete them. You can also select another language for the subtitles to be generated for.
If you already have a subtitles file, you can upload your .srt or .vtt file directly to the Studio in any language.
We currently support the languages below:
Chinese Simplified
Chinese Traditional
Afrikaans
Albanian
Arabic
Azerbaijani
Basque
Bengali
Belarusian
Bulgarian
Catalan
Croatian
Czech
Danish
Dutch
English
Esperanto
Estonian
Filipino
Finnish
French
Galician
Georgian
German
Greek
Gujarati
Haitian Creole
Hebrew
Hindi
Hungarian
Icelandic
Indonesian
Irish
Italian
Japanese
Kannada
Korean
Latin
Latvian
Lithuanian
Macedonian
Malay
Maltese
Norwegian
Persian
Polish
Portuguese
Romanian
Russian
Serbian
Slovak
Slovenian
Spanish
Swahili
Swedish
Tamil
Telugu
Thai
Turkish
Ukrainian
Urdu
Vietnamese
Welsh
Yiddish